This topic is dedicated to elfs only!
All questions, comments and spam posts will be either deleted or moved to the elfpack topic.
Note that this not a complete list of available elfs, but rather a selected collection of some. Others have their own topics in the
ELFs forum
, and some might not have made it here from the
elfpack topic
. Other places to look for new releases are at
mobilefree.ru
(the home of the elfpack), and the 'official'
svn repository
.
Rules for posting:
Include a description of the elf, and what version the uploaded elf is

If the elf uses an ini/cfg file, its options and parameters should be described in a [ codebox ] in the post, and/or in a file in the attachment.

Information of the name of the ini/cfg file, and where it should be placed must also be included. (like: $DIR_INI$/file.ini or $DIR_INI$/elf/file.ini)

Screenshots of the elf may be included

Keep the post structurized and easy to read. Use the elfs in this post for reference.

If you are not the author of the elf, you should write who the author is, and include a link to the page where you downloaded the elf.

If the author of the elf wants to write his own description, your post might be edited or removed.
For further questions, feel free to PM me.
Elf index:
Acoustic Menu Changer v1.2
batlogger 0.2
Battery Changer v0.5.1
BookManager 2.5 / 2.6 (this post)
Camera Drive Changer v1.3
Camera Shortcuts v1.2 (this post)
Day Dis v0.9.8
Disable Shutdown v1.4
EventControl v1.6
FileManager v0.16
Ideal Clock
KeyLogger v3.1 (this post)
LogoChanger v0.7.0
miniGPS 1.15
MissedEventsReminder v0.7
PhoneInfo v0.6.7
RegFile
Restarter
ScreenShooter v1.2 (this post)
Shutdown 1.1.8
Sleepmode 1.12
Soundslide elf 1.6
TellTheDate v0.2
BookManager 2.5 / 2.6
Copyright © 2007-2008 Hussein
Respect IronMaster,KreN
This elf is like a task manager for your phone. You activate it by pressing the start key (configurable), and then select the book ("task") you want to open.
In this way you can then switch between tasks. For example you can have a text file open in the background, and at the same time write a message. You can then switch between the text and the message with BookManager.
It can also be used to access the standby screen at times when you shouldn't be able to, like when you transfer files over BT.
The BookManager is also used as an "elf manager" as you can turn of most elfs with it. The elfs are controlled in the elf tab of the BookManager, where you can see the names of the currently running elfs, and the name of their authors. To close an elf you simply select it and press 'C'.
To close the BookManager, press and hold the back key. To minimize all books and go to the desktop, press "#" shortly. To close all books and return to the desktop, press and hold "#".
You can also assign other shortcuts to the numeric keys via the ini file. The shortcuts can be set to long/short presses, and is different in the book and elf tab. In the book tab you can set phone applications, and in the elf tab other elves.
The ini file is also used to configure other settings, and set custom names to the books.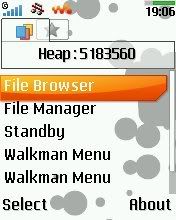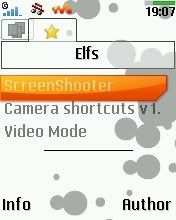 bookman.ini sample
(note that the rename section is not in the following code, so don't copy-paste. Use attached ini instead)

;BookManager v2.5 configuration file
;
;ini file location:
;$DIR_INI$/bookman/bookman.ini

;Shortcuts
;S: Short press  L: Long press  E: Elf tab  0-9: key
;All available book tab shortcuts can be seen in hot_key_functions.txt or menu.ml
;Elf shortcuts is: .../Zbin[shortcut]
[S_KEY0]: MenuItem_Bt_Activation
[L_KEY1]: MenuItem_Bt_Activation
[ES_KEY0]: /HeapMonitor.elf
[EL_KEY1]: /HelloWorld/HelloWorld.elf

;What key and key mode used to open the BookManager
[START_KEY]: 0x1F;
[KEY_MODE]: 0x03;
;If the BookManager should auto-close at user inactivity (ie. if you leave your phone with the bookmanager running)
[UIEE]: 0x01;
;If elfs with GUI should be seen in the book tab
[EIBL]: 0x01;
;If the BookManager should be able to open when the keys are locked 
[IGNORE_KEYLOCK]: 0x00;

;2.6 Updates
;Name books as session, they are belong, or display name of books
[NBAS]: 0x00;
;move StandbyBook on the top after shortcut run
;(If 0x01, swi 0x28E void Shortcut_Run(u16 * shortcut_name) is required!)
[SOT]: 0x00;

;The tab icons
;00: Inactive book tab. 01:Active book tab
;02: Inactive elf tab.  03:Active elf tab
;the icons should be placed in $DIR_INI$/bookman/
[ICON00]: 1.png
[ICON01]: 3.gif
[ICON02]: 4.gif
[ICON03]: package[1].gif

BookManager 2.6
Requires these two functions to work properly:
<!--c1-->

;Camera Shortcuts v1.2 configuration file
;
;ini file location:
;$DIR_INI$/CameraShortcuts.ini

;Switch between video / picture
[CAPT_MODE]:   KEY_DIGITAL_2

;SmartFocus
;Press short to activate focus, press again to deactivate focus.
;If you hold it down long, it will act as [CAM_FOCUS].
[SMART_FOCUS]: DIGITAL_0

;SmartShot
;Short press: Press once to focus, press again to shot.
;(Use either [SMART_FOCUS] or [CAM_FOCUS] to unfocus.)
;Long: Focus at press, shot at release
[SMART_SHOT]:  DIGITAL_8

;FastShot
;Short press: Acts as focus+shot, eg. it will take a picture as soon as you press it.
;Long: Focus at press, shot at release
;The focus time can be set with the [FOCUS_TIME] parameter.
[FAST_SHOT]:   DIGITAL_5
[FOCUS_TIME]:  3000


;'Normal' keys
[CAM_FOCUS]:   NO_KEY
[CAM_CAPTURE]: NO_KEY
[BR_MINUS]:	NO_KEY
[BR_PLUS]:	 NO_KEY
[MENU]:		DIGITAL_3
[MACRO_MODE]:  DIGITAL_6
[NIGHT_MODE]:  DIGITAL_9
[LIGHT]:	   STAR
[ZOOM_IN]:	 UP
[ZOOM_OUT]:	DOWN

For the key names, you can use either KEY_NAME, or just NAME.
More information on setting the shortcuts in the attached ini file sample.
CameraShortcuts_1.2.rar
4.71K
803 downloads
KeyLogger v3.1
© nkls
A keylogger for SE phones.
Logs all pressed keys to the log folder specified in the ini file.
The file / folder structure will be like this:
<!--c1-->

;KeyLogger v3.1 configuration file
;
;ini file location:
;$DIR_INI$/keylogger.ini

;[TERMINATE_KEY]: 0xFF ;No key

[TERMINATE_KEY]:	  KEY_POWER
[TERMINATE_KEY_MODE]: SHORT_PRESS

[NEW_FILE_KEY]:	   KEY_STAR
[NEW_FILE_KEY_MODE]:  LONG_PRESS

[LOG_FOLDER]: /usb/other/keylog/

[MAX_TIME]:	  30000
[MAX_CLICKS]:	  200

[EXT_LOG_MODE]:   0x00
[SHOW_IN_BM]:	 0x01
[GROUP_KEYPAD]:   0x01
[IGNORE_KEYLOCK]: 0x01


Key modes:
SHORT_PRESS
SHORT_RELEASE
LONG_PRESS
LONG_RELEASE
Keys:
See keys.txt in attachment
KeyLogger_3.1.rar
5.51K
866 downloads
If you want to discuss or ask questions about these elfs, please do it in the elfpack topic.
Edited by nkls, 20 January 2010 - 01:11 PM.